Parish History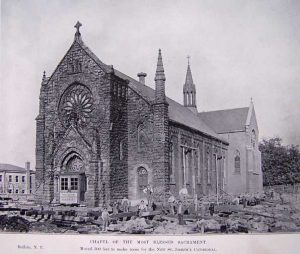 Blessed Sacrament Church, Buffalo, has enjoyed a very long and distinguished history closely linked to several of the bishops of the Diocese of Buffalo.
Founded in 1887 as the chapel for the second Bishop of Buffalo, Bishop Stephen Vincent Ryan, the chapel was soon expanded to meet the needs of a growing congregation and named Blessed Sacrament Church.
A growing city and a growing Catholic population called for even more expansion and plans were put in place to build a new cathedral adjacent to the church that would hold 1,500 people. In 1915, St. Joseph's New Cathedral was dedicated. However, after sixty short years, the Cathedral was demolished due to severely deteriorating materials that could not withstand the Buffalo winters. At this point, in 1976, the parish was recommissioned, once again, as Blessed Sacrament Church.